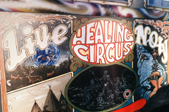 We are so happy to invite our fellow circus conspirators to post stories, reflections, anecdotes and wisdom within this ongoing blog! Circus, festivals, carnival, touring, performance art, workshops, live music, cultural exchanges, and the communities that surround these things are all great platforms for learning and growth.
The comment section below is open, so please join in the conversation!
If you feel like you have more than a comment to add to the conversation and would like to contribute your own blog articles, please contact us and we will create an account for you to submit. We are interested in contributions from people who can help shed light on the process of living your dream and helping to improve and heal our global community through art.
Onward!